Trésor de la Mer Mermaid is so excited to present the newest addition to our fantasy experience - professional mermaid tails! These tails feature oversized flukes, large dorsal fins, calf fins, heel fins, hip fins, and a low rise waistline perfect for shorter mermaids or anyone who prefers a low rise fit. The power grip elastic ensures the tail will stay in place while swimming. The heel fins will help draw attention away from the unavoidable heel bumps and there are pre-sewn drainage holes to allow water and air to pass through the fluke while swimming. Monofins are not included however a larger monofin is needed to help propulsion. The Fin Fun Elite monofin is a great fit, and the Mahina should work as well. Click below to order!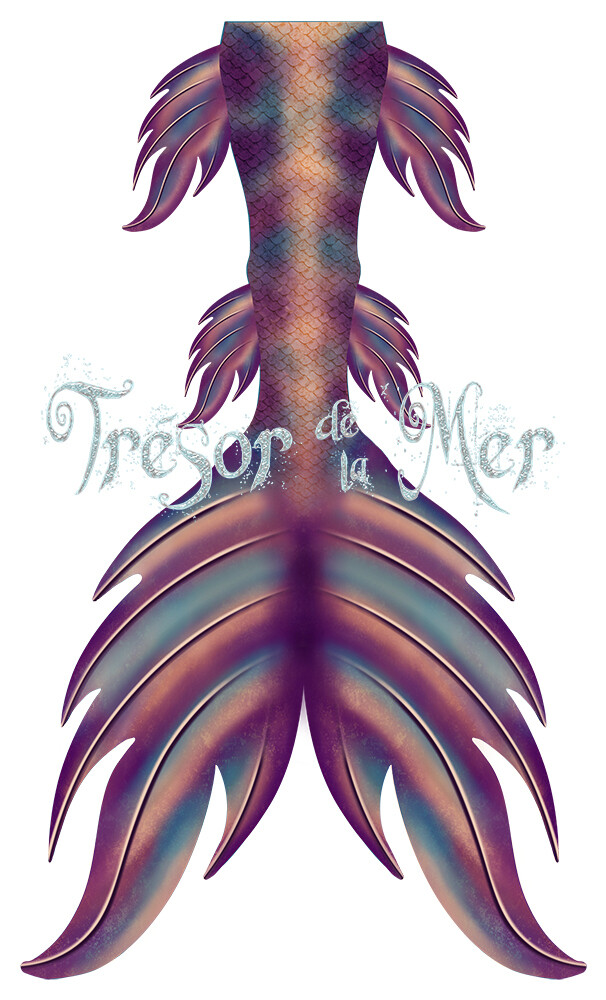 This is the Harvest Fantasy tail, a perfect way to bring your woodsy fairy mermaid persona to life. The Harvest Fantasy tail blends coral, plum, peach, and teal tones together in a magical smoky texture printed pattern. The fin spines are bold, glowing against the deep autumn hues of the tail. Our fins are seamless to enhance the fantasy you create. An oversized fluke and dorsal fin will make everyone look twice as you swim by with your magical colours trailing behind you. Leafy fin edges and a slightly weathered look evoke images of fall in full bloom and add an extra finishing touch to this beautiful tail. The fabric is 1mm thick and durable 4 way stretch luxury scuba knit spandex. This blend is different from other tailmakers and provides a silky smooth second skin fit.
​
The fluke is approximately 47" long and 48" wide at the longest/widest points. The dorsal fin is approximately 41" long and 15" wide at the longest/widest points. A larger monofin is required for this tail. Vinyl insert included. This tail is intended for advanced or professional level swimmers and is not recommended for beginners. As always, never swim alone and always use the proper monofin.
These tails are designed by Trésor de la Mer mermaid model Victoria Persephone and sewn by the incredibly gifted team at VirtuoSew in Canada. VirtuoSew has years of experience designing and sewing mermaid tails so your order is in expert hands every step of the way. Due to the fact that every tail is made to order, we cannot do returns or exchanges. If there is an issue with your tail, please email tresordelamer666@gmail.com to see if your issue can be properly resolved. Tails take about 10-12 weeks for printing, sewing, and shipping.
New tails will be released every few months and next year custom sizing will be available, as well as a larger range of standard sizes. Also coming next year, merman tails designed specifically for men.
For now, tails are only available in sizes small, medium, and large. For reference, a small will correspond approximately to an American size 2.
Check out the Harvest Fantasy Tail in action!
"Oceans," An exciting collaboration with pop singer
Collette McLafferty - you can download the single using the link in the video description.
"Time in a Bottle," by Jim Croce
"A Thousand Years," by Christina Perri
"Possessed by the Darkness [Devastation Mermix],"
by Sarah McLachlan